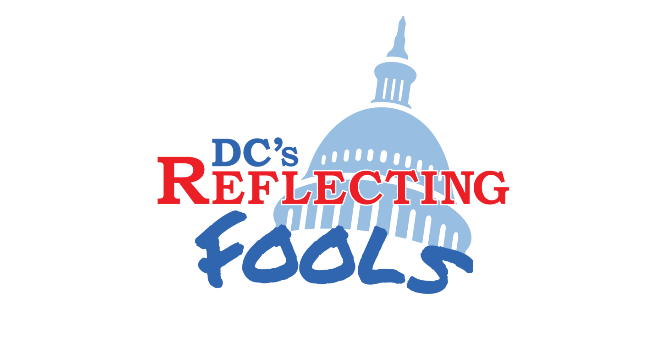 Sep 6, 2022
DC's Reflecting Fools
Saturday, October 15, 2022 at 8PM
Meet the cast of DC's Reflecting Fools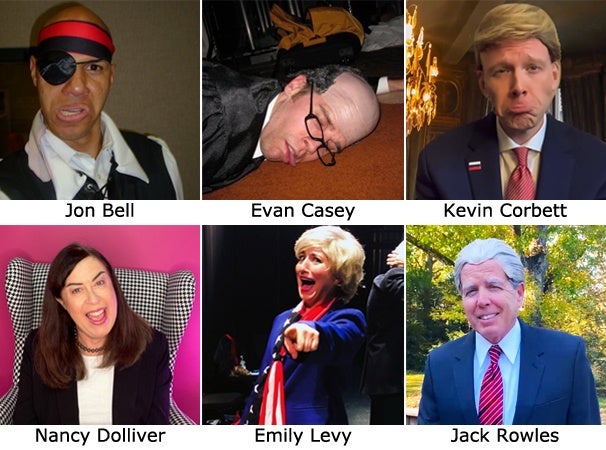 In 2021, we had to say goodbye to the Capitol Steps, however, the stairway to heavenly political satire continues upward with DC's Reflecting Fools. This all-new musical parody group, DC's Reflecting Fools, created by the performers and co-writer from the Capitol Steps holds up a mirror to our crazy political culture.
Jon Bell (Performer) – Jon is a former member of the Capitol Steps and has toured with the company for eleven years. Before putting on a suit to play Barack Obama, he was the lead singer "Wrath" in the rock show Rockin' Eve's Wrath at Busch Gardens. Jon is thrilled to be a part of the new company DC's Reflecting Fools!
Howard Breitbart (Musical Director) – Howard is a musical director, arranger, and collaborative accompanist working extensively throughout the Washington DC area. After twenty-seven years with the Capitol Steps, Howard is still trying to maintain composure, dignity, and a steady tempo while his friends in the "Reflecting Fools" attempt to make him laugh.
Kevin Corbett (Performer) – After Kevin's career as a dancer was tragically derailed by the fact that he was a terrible dancer, he turned to a life in comedy, where he spent twenty years performing political satire and song parodies with Capitol Steps. In addition to performing, Kevin teaches improvisation and comedy at Round House Theatre in Maryland, the National Conservatory of Dramatic Arts in Washington D.C., and various other institutions all across the country.
Nancy Dolliver (Performer) – For over twenty-five years, Nancy toured the country relentlessly with The Capitol Steps, portraying such infamous characters as Monica Lewinski, Nancy Pelosi, Hillary Clinton, Barbara Bush, Sarah Palin, and Kellyanne Conway, just to name a few. A couple of her favorite roles included Amy in Company and Fanny Brice in Funny Girl. She is proud to be carrying forward the political satire torch in DC's Reflecting Fools and remains undeterred in her desire to offend audience members from both sides of the aisle.
Mark Eaton (Head Writer) – When Mark was approached about being a part of a new show, he gave an enthusiastic, "Well, I guess I have nothing better to do." Mark is by far the sexiest, most spiritually advanced, and intellectually gifted member of DC's Reflecting Fools—he also got to write his own bio.
Emily Levey (Performer) – As a proud native Washingtonian, Emily would agree that politics and/or poking fun at politicians runs in her blood (aren't they kind of the same thing, after all?). Emily has performed at theaters all over the Washington DC area, including a glorious five years with the Capitol Steps. She is ecstatic to continue the tradition of laughing at the ridiculous state of things with DC's Reflecting Fools.
Jack Rowles (Performer) – Jack is excited to return to the stage, Reflecting the Fools that occupy the offices on Capitol Hill. After twenty years of performing with The Capitol Steps, Jack is eager to resurrect some of his favorite characters, including but not limited to, Putin, Bernie, Bannon, Blagojevich, and the Pope!
As the crazy Mid Term Elections are approaching, let's welcome some hilarious reflection! Join us for the unveiling of the next political movement in comedy sweeping the country - DC's Reflecting Fools, only at The American Theatre!
Tickets: DC's Reflecting Fools Tickets Oct 15, 2022 Hampton, VA | Ticketmaster
Tickets starting at $35! Flex Pass Subscription and single tickets are on sale now. *Terms and conditions may apply. Artists subject to change. Cannot be combined with other discounts or offers.