Jun 16, 2022
Hampton Arts 2022-2023 Season Announce
Hampton Arts Welcomes You Back
2022-2023 represents our 35th Anniversary Season bringing the entire Coastal Virginia region the best performing and visual arts experiences from around the world!
From innovative modern music to cutting-edge American jazz, from Broadway blockbusters to a variety of Christmas and Holiday celebrations — this upcoming season's performers are all storytellers, with or without words!
Inside the galleries, visitors will experience our always-anticipated Hampton Arts League Exhibition to Artists Who Teach; from the Virginia Artists Juried Exhibition to Small Works. The Hampton Holiday Fine Arts Bazaar returns as our newest tradition following a two-year hiatus! Closing out our 35th Anniversary Season will be a new exhibition From the Sea to the Stars! This new curated and juried exhibition will celebrate the artistic tapestry at the heart of Hampton and Hampton Roads.
We also continue our price-accessibility with Theatre tickets starting at $35 – and a number of preferred seats for those who want to guarantee the most sought-after seats early in the season. As always, exhibitions at the Arts Center are free!
We are thrilled to have the opportunity to once again share the magic of the performing arts with you. Creativity and imagination are the threads that weave our cultural tapestry and advance our mission to enhance the quality of life for the artists and audiences we serve.
So get ready for some new experiences, some new friends and some new surprises for Season 35 at The American Theatre and The Charles H. Taylor Visual Arts Center!
---
PREMIER PERFORMANCE
Vegas Nights with Frankie Moreno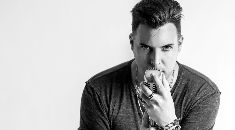 SATURDAY, OCTOBER 22, 2022 | 8 P.M.
Named Las Vegas's "Headliner of the Year" four times, the charismatic Frankie Moreno temporarily ditches the desert for Coastal Virginia! The worldwide sensation has sold more than one million records, playing concerts from the Kennedy Center to the Hollywood Bowl. From rock 'n roll to classical to country, Moreno has defied genres on his six top-selling albums. Emmy-nominated for his national TV special Songs at Home, Moreno is even more exciting performing live, where you can experience his inviting charm and soaring vocals! Don't miss this rare chance to see Moreno on tour, playing some of his favorite songs, reimagined with his sexy, signature style. Making his American Theatre debut, you will be dazzled by the larger than life talent that is Frankie Moreno!
---
Kathleen Turner: Finding My Voice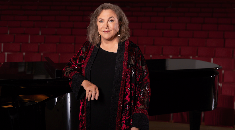 SATURDAY, NOVEMBER 19, 2022 | 8 P.M.
Don't miss the chance to see Hollywood legend Kathleen Turner as she takes you on a remarkable behind-the-scenes journey through her storied career of stage and film. Peppered with songs from the Great American Songbook, Turner croons hits, including "Let's Fall in Love," "On the Street Where You Live" and "Every Time We Say Goodbye"— each uniquely showcasing her instantly recognizable voice. Turner's film roles include Romancing the Stone and its sequel Jewel of the Nile (starring opposite Michael Douglas), the voice of temptress Jessica Rabbit in Who Framed Roger Rabbit?, Prizzi's Honor and Peggy Sue Got Married. The acclaimed actress has been nominated for two Tony Awards for playing Maggie in Cat on a Hot Tin Roof and Martha in Who's Afraid of Virginia Woolf? Finding My Voice is a profoundly personal show packed with humor, great music, and one-of-a-kind insights spanning Kathleen Turner's exciting contributions to the entertainment industry.
---
Lightwire Theater: A Very Electric Christmas
SATURDAY, DECEMBER 10, 2022 | 8 P.M.
Brighten your holidays with this magical and captivating tale of family, friendship and hope set to timeless holiday hits! Combining theater and eye-popping technology performed in complete darkness, Lightwire brings stories to life in ways that will mesmerize children of all ages. The troupe has been featured on NBC's America's Got Talent and returns to The American Theatre after last season's enchanting performance. Lightwire Theater's original story follows a young bird named Max who gets blown off course and finds himself at the North Pole. Expect caroling worms, dancing poinsettias, nutcracker soldiers, mischievous mice and more in this delightful and illuminating holiday production.
---
Big Bad Voodoo Daddy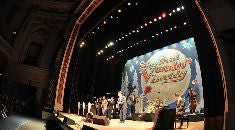 SATURDAY, DECEMBER 17, 2022 | 8 P.M.
Together for over 28 years, Big Bad Voodoo Daddy — famously named after an autograph by blues legend Albert Collins — has appeared in concert venues across the world, sold millions of records, and had their music appear in hundreds of movies and television shows. With sold out concerts from the Hollywood Bowl to Lincoln Center, appearances with many of the country's finest symphony orchestras, and television appearances ranging from Dancing with the Stars to Superbowl XXXIII, Big Bad Voodoo Daddy continues its decades-long mission to celebrate and revitalize jazz and swing music — America's original musical art form — and bring joy to audiences around the world.
---
The Acting Company: The Three Musketeers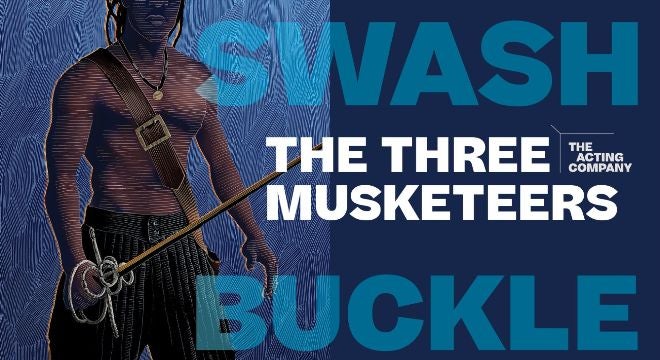 FRIDAY, JANUARY 27, 2023 | 8 P.M.
This world premiere adaptation commissioned by The Acting Company will draw inspiration from an astonishing secret—that Dumas' father, General Alex Dumas, was the highest-ranking person of color in a Western military until our own time. This adaptation will shed new light on this swashbuckling adventure and give a favorite story new importance. An inspiring tale filled with laughter and adventure, The Three Musketeers is a reminder to all that courage, honesty, and valour can change the world.
---
Melissa Manchester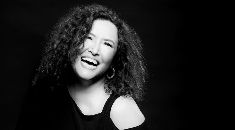 SATURDAY, FEBRUARY 25, 2023 | 8 P.M.
What a better way to celebrate Spring than "Through the Eyes of Love"? Melissa Manchester's Grammy-nominated hit is just a hint of a 45-year career that began as a back-up singer for Bette Midler and grew into a spectacular songbook spanning 20 studio albums. Manchester comes to The American Theatre to perform a collection of favorite songs in her unique way, with beautiful phrasing and a rich, earthy tone that has been her signature sound since the singer-songwriter's early days in NYC. Manchester eventually won that Grammy in 1982 for "You Should Hear How She Talks About You" and over the years has entertained dedicated fans across the country. Musical icons such as Barbra Streisand and Roberta Flack have recorded her songs, while Manchester herself has paid tribute to the artists who have influenced her over the years, from Frank Sinatra and Tony Bennett to Carly Simon and Edith Piaf. Don't miss this chance for Manchester to warm your heart with her favorite songs and distinctive arrangements.
---
A Night with Taylor Dayne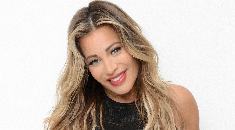 SATURDAY, MARCH 18, 2023 | 8 P.M.
Taylor Dayne is an American pop icon. With a career spanning three decades, Taylor's groundbreaking debut single "Tell It To My Heart" turned her into an overnight international star in 1987. She followed the smash hit with seventeen Top 20 singles over the course of her three-decade career, including Number Ones "Love Will Lead You Back", "Prove Your Love", and "I'll Always Love You." Taylor has sold over 75 million albums and singles worldwide, earned three GRAMMY nominations, an American Music Award, multiple New York Music Awards, received New York Music Hall of Fame honors and ranked as the Number 18 Female Dance artist of all time by Rolling Stone magazine. She is one of the very few artists in musical history to successfully crossover into almost every musical genre and chart with hit singles in pop, dance, R&B, adult contemporary and rock. Opening for Dayne is Hampton Roads' ultimate '80s tribute band, The Deloreans!
---
Bluegrass & Brew Festival: Dailey & Vincent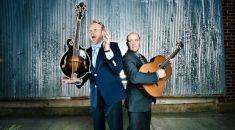 FRIDAY, JUNE 9, 2023 | 8 P.M.
Jamie Dailey and Darrin Vincent, backed by one of the best bands on tour today, are some of the most reputable and elite entertainers in American music with a unique sound that seamlessly blends bluegrass, traditional country, and gospel music. Dailey's tenor and Vincent's reedy harmonies offer a concoction of fantastically instinctive vocal blends that has gained them well-deserved praise for their distinctive style and worldwide recognition as American Music gold.
---
Bluegrass & Brew Festival: Steep Canyon Rangers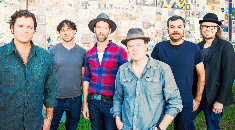 SATURDAY, JUNE 10, 2023 | 8 P.M.
Back by popular demand after wowing audiences with their fiddle-centric arrangements and signature style, perennial Billboard chart-toppers Steep Canyon Rangers return for a highly-anticipated encore performance. The Grammy-winning group (Best Bluegrass Album, Nobody Knows You) have performed together for more than two decades and have collaborated with an array of phenomenal musicians, including the hit "Be Still Moses" with Boyz II Men.
---
Bluegrass & Brew Festival: Carbon Leaf
SUNDAY, JUNE 11, 2023 | 3 P.M.
Pulling from folk, Americana, roots and rock traditions, the Virginia quintet's lively sound features vocal harmony, acoustic and electric guitars, mandolin, fiddle, bass, drums, cello, banjo, penny whistle, pedal steel, accordion and whatever else can be placed onto the stage! Keeping it local, Carbon Leaf writes, records and produces in the band's Richmond studio.
---
JAZZ AT THE AMERICAN
Diane Shuur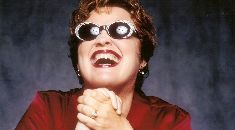 SATURDAY, NOVEMBER 12, 2022 | 8 P.M.
Two-time Grammy Award-winner Diane Schuur's powerhouse vocals and dynamic range take over The American Theatre for a can't-miss concert of contemporary jazz. Influenced by the great Dinah Washington, Schuur's musical style has evolved throughout her celebrated career from her 1979 discovery at the Monterey Jazz Festival to her latest album, Running on Faith. Blind since birth, Schuur first learned to play piano by ear, picking out tunes on the keys with two fingers at the age of 3. "I sang to myself at night," recalls Schuur. More than a dozen albums later, the jazz great has performed around the world, including Carnegie Hall and with leading orchestras. "I plan to continue my reading of classic American song," reflects Schuur, "paying respect to celebrated writers and polishing their gems in the jazz tradition."
---
An Evening with Dee Dee Bridgewater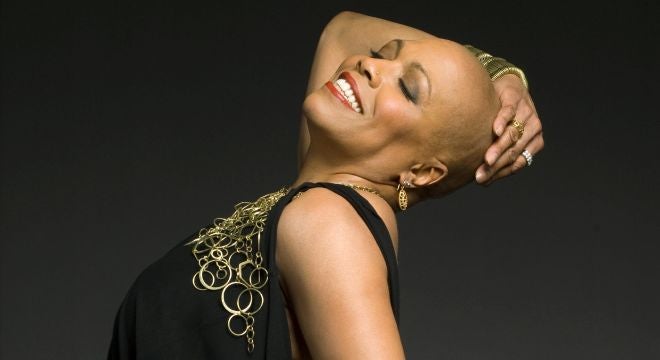 SATURDAY, FEBRUARY 11, 2023 | 8 P.M.
Nobody sings jazz like Dee Dee Bridgewater. Don't miss this chance to hear the Grammy and Tony Award-winning vocalist put her unique spin on standards and re-envision jazz classics. Ever the fearless explorer, pioneer and keeper of tradition, Bridgewater fuses musical genres with each song she interprets. An NEA Jazz Masters Fellows Award recipient, Bridgewater has sung jazz, pop and musical theater (Billie Holiday, Lady Day; Glinda, The Wiz), and is known for her wildly successful tribute to Ella Fitzgerald, Dear Ella. Her latest album, Memphis… Yes, I'm Ready, celebrates yet another aspect of her musical prowess as a top-shelf soul singer. Jazz pianist Bill Charlap joins Bridgewater for this special performance. His mastery of the 88 keys promises to add flair to an unforgettable evening.
---
Jae Sinnett Quartet ft. Symphonicity & Steve Wilson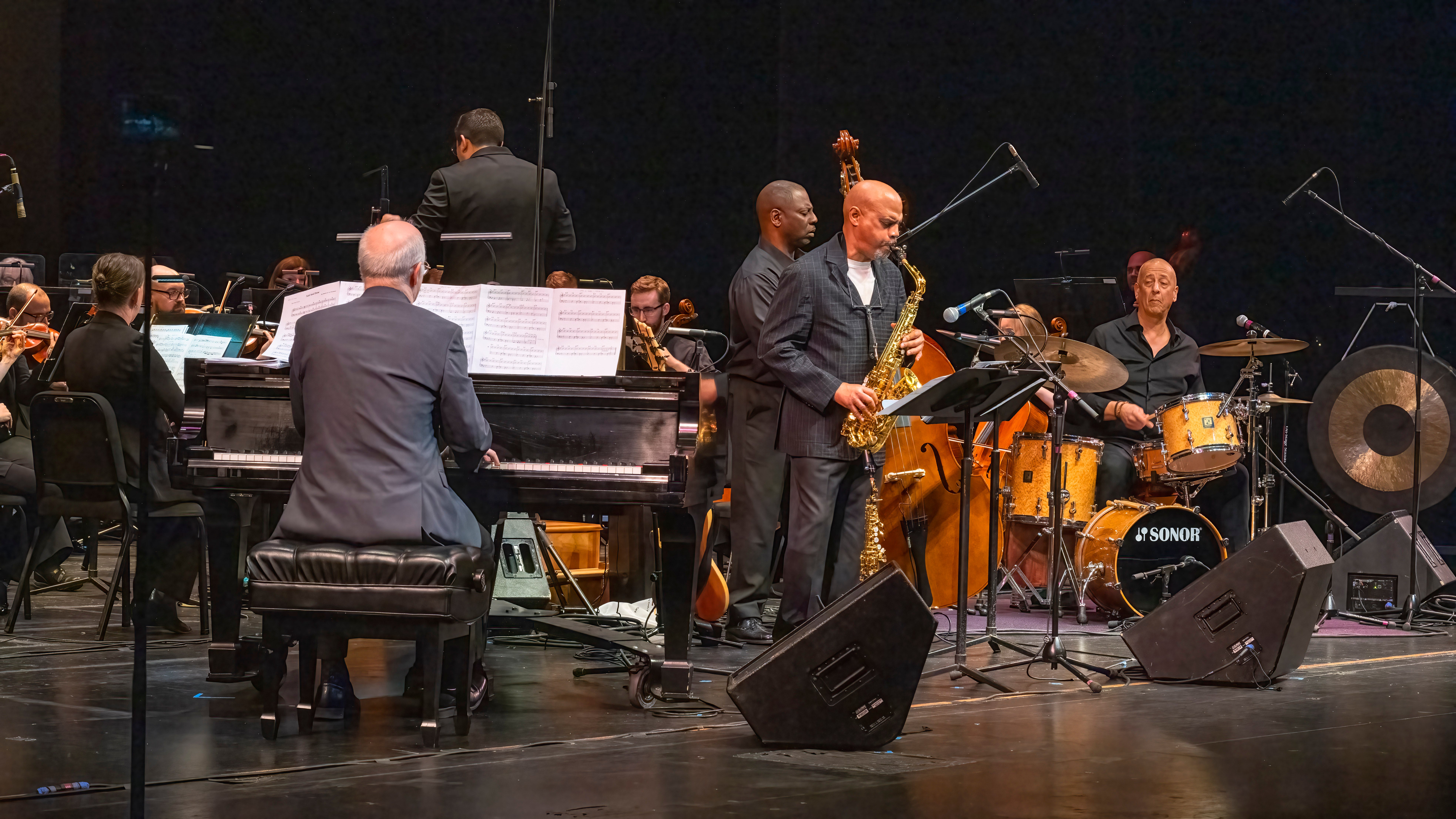 SATURDAY, FEBRUARY 18, 2023 | 8 P.M.
Drummer, composer, arranger, educator and band leader Jae Sinnett is a jazz staple in the Hampton Roads music scene. Between his WHRV radio show, Sinnett in Session, and live performances with his Trio and Quartet, there is no jazz without Jae! He will be joined by Virginia Beach's all-volunteer resident orchestra, Symphonicity, and saxophonist Steve Wilson.
---
Arturo Sandoval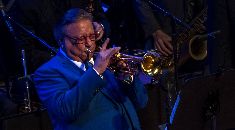 SATURDAY, MAY 6, 2023 | 8 P.M.
"This astonishing trumpeter, pianist and composer has inspired audiences in every corner of the world and awakened a new generation of great performers," said President Barack Obama of the legendary jazz musician Arturo Sandoval. The Cuban native's decade-spanning career has earned him 10 Grammy Awards, the Presidential Medal of Freedom, and countless other accolades for his musicianship and humanitarian efforts. Sandoval was a protégé of jazz trumpeter Dizzy Gillespie and is also recognized as a renowned classical artist, pianist and composer. He's recorded with many of the world's greatest performers, from Frank Sinatra and Josh Groban to Rod Stewart and Alicia Keys. He was even portrayed by acclaimed film actor Andy Garcia in the 2000 HBO biopic For Love or Country: The Arturo Sandoval Story. Recognized as one of the most brilliant, multifaceted and renowned musicians of our time, this performance offers the chance to witness a living legend in an intimate, up-close-and-personal setting.
---
COMEDY TONIGHT
DC's Reflecting Fools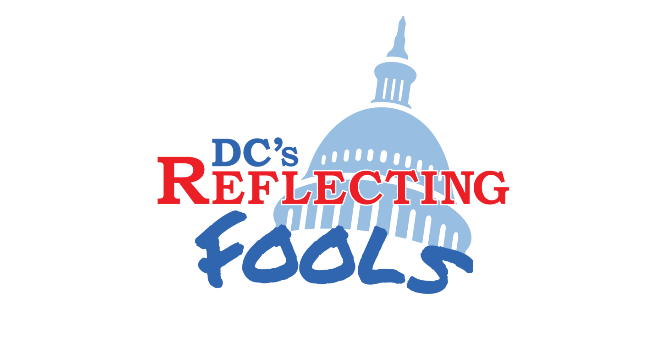 SATURDAY, OCTOBER 15, 2022 | 8 P.M.
While with a sad heart we said goodbye to the Capitol Steps in 2021, thankfully the stairway to heavenly political satire continues upward with DC's Reflecting Fools— the new musical parody group created by the performers and co-writer from the Capitol Steps. DC's Reflecting Fools hold up a mirror to our crazy political culture, providing hilarious song parodies and foolish reflections that continue to inspire belly-laughter. Audiences will continue to see casts from past seasons of the Capitol Steps performing all the beloved bits, the show-ending and mind-boggling backward talking spoonerisms, break-neck costume changes, over-the-top impressions, and all-new song parodies reflecting the day's news. So just in time for the crazy Mid Term Elections -- let's welcome some hilarious reflection! Join us for the unveiling of the next political movement in comedy sweeping the country - DC's Reflecting Fools, only at The American Theatre!
---
Margaret Cho: Comedy @ The Coliseum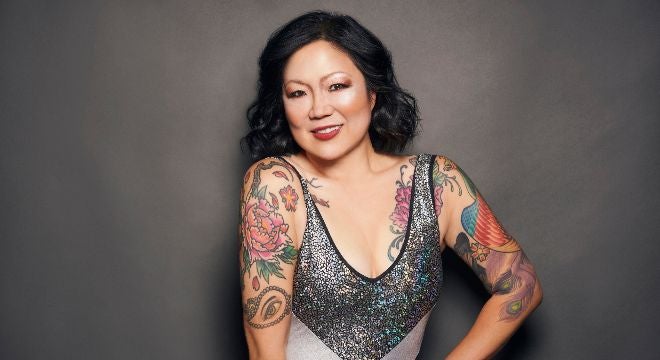 SATURDAY, MARCH 11, 2023 | 8 P.M.
As a trailblazing comedian, actress, musician and activist, Margaret Cho has five Grammy Award nominations and one Emmy nod for her groundbreaking work on 30 Rock. Rolling Stone magazine named Margaret one of the 50 Best Stand-Up Comics calling her "the sort of funny, sex-positive feminist and LGBTQ activist younger comics continue to look up to." This new and sure-to-be dazzling series, Comedy @ The Coliseum, allows our loyal fan base at The American Theatre an opportunity to see headlining acts on a bigger stage at our sister venue, Hampton Coliseum. *Please note: the seating chart for this show can be found at hamptoncoliseum.org. This show is for mature audiences.
---
The Second City Swipes Right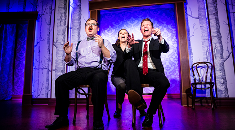 SATURDAY, MARCH 25, 2023 | 8 P.M.
A new show from The Second City Touring Company! Bring your partner, lover, significant other, spouse, friend with benefits, friend with EXTRA benefits, platonic BFF, or your spectacularly single self to this brand-new experience you've been aching for. Spend a naughty 90 minutes with this caliente cast of comedians as they (consensually) annihilate everything that turns us on— and off—about love, dating, relationships, and everything else in-between the sheets! This show is for mature audiences.
---
Yakov Smirnoff: Happily Ever Laughter
SATURDAY, APRIL 8, 2023 | 8 P.M.
"What a country!" says legendary comedian Yakov Smirnoff. From Russia to the New York Catskills to The Comedy Store in Los Angeles, Smirnoff quickly gained fans for his lovable view of America. More than 40 years later, he still plays to sold-out crowds, delivering an optimistic message about how we're more alike than different, with plenty of laughs along the way. Smirnoff soared to the top of the comedy world performing on "The Tonight Show" and in countless television programs and films. The best-selling author also earned a doctorate from Pepperdine University. Living a life that's as exciting as ever, Smirnoff is currently touring the country doing stand-up and even has his own theater in Branson, Missouri. With the heart of a dreamer, Smirnoff has made the impossible possible and continues to inspire others with heartfelt hilarity.
---
LIFE IS A CABARET
Coco Peru is Bitter, Bothered, and Beyond!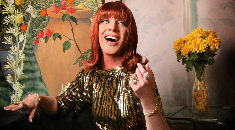 TUES-WED, NOV 1-2, 2022 | 8 P.M.
After everything that's been going on in the world, Coco is ready to unleash her thoughts about the past, present and future! Yes, this exhausted dinosaur of drag is not holding back anything in her new show, Bitter, Bothered, and Beyond. Miss Coco Peru (aka Clinton Leupp) has been a household name in the LGBTQ community for over 30 years. She got her start in the early 90's as a downtown favorite in the cabaret world of New York after she wrote, produced, directed, and starred in her first show, Miss Coco Peru in My Goddamn Cabaret, and has since enjoyed an expansive career, ranging from intimate cabaret stages in New York and LA, to television sets in millions of living rooms. She's toured around the world, has over ten million views on YouTube and has appeared in multiple cherished films and television shows, including Trick, To Wong Foo..., the cult classic Girls Will Be Girls, Will & Grace, How I Met Your Mother, and Arrested Development.
---
Liz Terrell: It's All Right With Me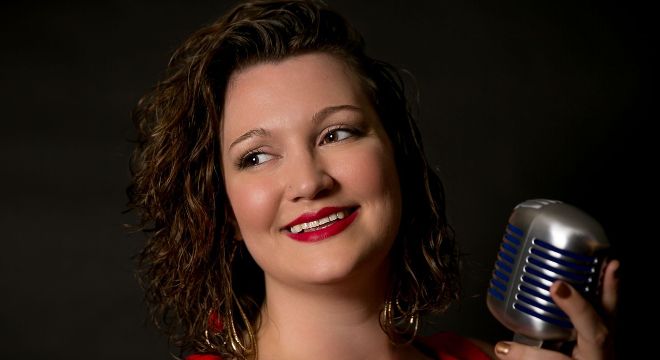 FRI-SAT, JAN 20-21, 2023 | 8 P.M.
Norfolk's very own Liz Terrell brings her beguiling jazz vocals to The American Theatre's intimate cabaret space for a celebration of The American Songbook. Terrell reimagines popular songs and jazz standards made famous in the early 20th century with her signature style, commanding voice and magnetic stage presence. Frequently performing throughout Coastal Virginia with her own ensembles and as part of the bass/voice duo, Liz & Brydge, Terrell's select song list for the Life is a Cabaret series draws inspiration from the memorable melodies and sharply-penned lyrics of our greatest songwriters, including George and Ira Gershwin, Cole Porter, Harold Arlen and others. You won't want to miss this enchanting evening of era-defining tunes featuring one of the region's most sought-after vocalists.
---
Desiree Roots: Celebrating Nancy Wilson
SAT-SUN, MAY 13-14, 2023 | 8 P.M. SAT, 3 P.M. SUN
Virginia native and vocal powerhouse Desiree Roots pays tribute to Nancy Wilson, one of the great female jazz and pop voices of the 20th century, in an intimate cabaret setting—just in time for Mother's Day weekend! The Grammy-winning Wilson transcended genres throughout her career, just as Roots has done on stage as a solo performer and through lead roles in hit musicals such as Dreamgirls and The Color Purple. Roots, who wrote and starred in a centennial celebration of Ella Fitzgerald and continues to tour with the show, now finds inspiration in the renowned Wilson, who won her first Grammy for the hit song "How Glad I Am" in 1965, and 40 years later was recognized again for Best Jazz Vocal Album, R.S.V.P. Don't miss this opportunity to hear one entrancing voice pay tribute to another as Desiree Roots celebrates the remarkable accomplishments of Nancy Wilson.
---
LIGHTHOUSE
Hampton Roads Philharmonic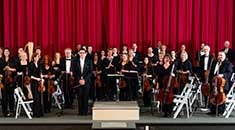 Master Composers Fall Concert: SUN, OCT 16, 2022 | 2:30 P.M.
Winter Classics & Holiday Favorites: SUN, DEC 11, 2022 | 2:30 P.M.
Young Artists Competition Showcase: SUN, MARCH 12, 2023 | 2:30 P.M.
Hampton Roads Philharmonic unites members from all walks of life, brought together by a love of music. Active and retired military, music teachers, students, senior citizens, and more comprise the orchestra under the baton of music director and conductor Steven Brindle. The orchestra is proud to serve its community and continues to garner enthusiastic public acclaim.
---
Riddick Dance Company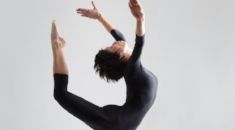 Afro Funk: FRIDAY, OCTOBER 28, 2022 | 8 P.M.
After being absent on The American Theatre stage for two years, Riddick Dance will deliver a powerful vision of contemporary dance from resident choreographer Marshall Swiney and Artistic Director David Riddick. This show will present one world premiere, Deconstruction of the "Booty in The Groove", and from its repertoire, Miss Virginia Traveling and David Riddick's Mindz. All the choreography features the music of Yoruba People, New Music, and Rhythm and Blues. Come join us and experience the Afro Funk of Riddick Dance.
Sermon: FRIDAY, MARCH 31, 2023 | 8 P.M.
Riddick Dance performs the world premiere of Sermon, a gospel music celebration in the African American tradition, which explores themes of peace of the mind and body. Through the devotional song and dance, the music of this choreography will pay homage to traditional African American gospel music.
---
Rocky Horror Picture Show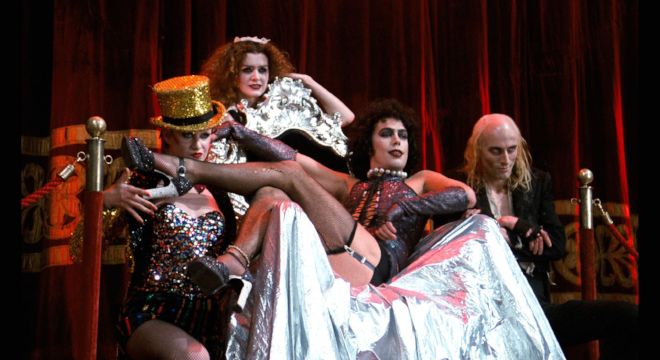 MONDAY, OCTOBER 31, 2022 | 8 P.M.
"It's just a jump to the left and then a step to the right!" If you've never done "The Time Warp," now is your chance as the Hampton Halloween tradition returns! Grab your fishnets and pelvic-thrust your way to The American Theatre's annual creature feature presentation of The Rocky Horror Picture Show. Audiences will time warp back to the 1970s and shimmy the night away to a screening of the cult classic film. Dress as your favorite character (Dr. Frank-N-Furter, Riff Raff or Magenta?) and dust off your gold-sequined top hat for a delightful spoof of Hollywood horror movies and Old Dark House melodramas featuring a live shadow cast performance by Fishnet Inc.
---
FAMILY FUN
Barefoot Puppets: Galapagos George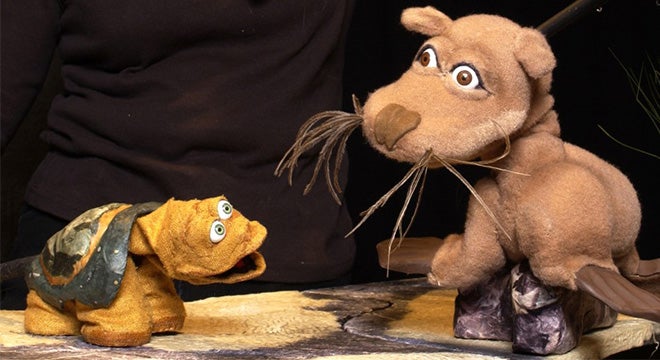 SATURDAY, NOVEMBER 5, 2022 | 11 A.M.
Happy Anniversary, Lonesome George! Barefoot Puppets commemorates the discovery of one of the rarest creatures in the world. Journey to Pinta Island in the Galapagos as Barefoot Puppets tells the tale of this one-of-a-kind tortoise. Young theatergoers will watch in wonder as George grows up among sea turtles, lizards, hungry goats, sea lions, and dancing birds with blue feet. Described by The Smithsonian as "an uplifting eco-fable," this engaging theatrical piece shares a valuable lesson about our civilization's impact on the environment. Galapagos George showcases Barefoot Puppets' signature style with the use of both handmade and shadow puppets.
---
'Twas the Night Before Christmas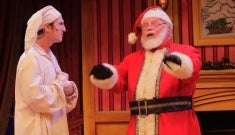 SATURDAY, NOVEMBER 26, 2022 | 11 A.M.
Kick off the holidays with the charming musical adaptation of Clement Moore's "A Visit From St. Nicholas." It's 1823 and Moore, along with a jubilant cast of characters, comes to life as he struggles to write a Christmas poem. Eventually, the loving and joyous images he conjures inspire the famous poem's creation. Jolly Santa, reindeer on the roof, dancing sugarplums and other colorful characters bring this delightful story to the stage for a new generation. What better way to celebrate the season than with the giddy anticipation of Christmas morning? A Virginia Rep on Tour production.
---
Barefoot Puppets: New Squid on the Block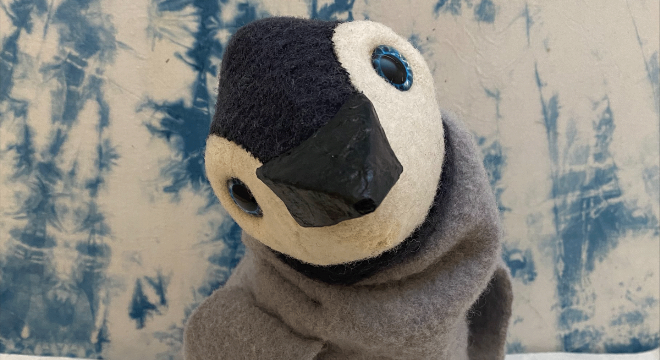 SATURDAY, FEBRUARY 4, 2023 | 11 A.M.
Barefoot Puppets returns this spring with a premier performance of New Squid on the Block. This fun performance celebrates creative thinking, problem-solving, friendship, and fun! Featuring penguins, a submarine, MORE PENGUINS, and a curious squid, this show takes the audience on an epic journey to Antarctica. On the way, we encounter unusual creatures in the depths of the ocean. Performed with tabletop rod-puppets, this comedic, non-verbal performance provides smiles and laughter in abundance.
---
The Imagination Movers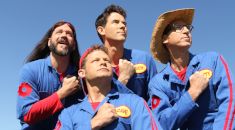 SATURDAY, MARCH 4, 2023 | 2 P.M.
They're back! Audiences of all ages were captivated by the Imagination Movers' last high-energy, interactive musical performance at The American Theatre. The Emmy Award-winning group returns with its fresh take on family fun and is sure to bring smiles to all who attend. Whether they're singing about healthy snacks, playing catch or conquering bedtime fears, the Imagination Movers deliver witty lyrics and an eclectic pop sensibility that encourage creativity and personal growth in young minds. Their acclaimed TV series ran for three seasons on Disney, and now the Imagination Movers bring their message to worldwide audiences with signature flair — don't miss your chance to get movin' with this global sensation!
---
IN THE GALLERIES - The Charles H. Taylor Visual Arts Center
For more than 60 years the historic building in downtown Hampton served as the city's library. Built by Mrs. Grace Taylor Armstrong in honor of her father, it was meticulously restored and renovated, opening in 1989 as The Charles H. Taylor Arts Center to showcase the work of artists from throughout the Commonwealth of Virginia and the Mid-Atlantic region.
---
2022 Artists Who Teach
July 16 – August 27, 2022
Reception and Awards Ceremony: July 23, 2022 | 3-5pm
Artists Who Teach is an annual juried exhibition that presents the artwork of our talented visual arts educators throughout Coastal Virginia. Artwork in all media are represented by current educators of local schools, colleges, art centers and institutions. This year's exhibition features cash prizes awarded to Best in Show, First, Second, and Third Places.
Johnny Shield Solo Exhibition – Reverberation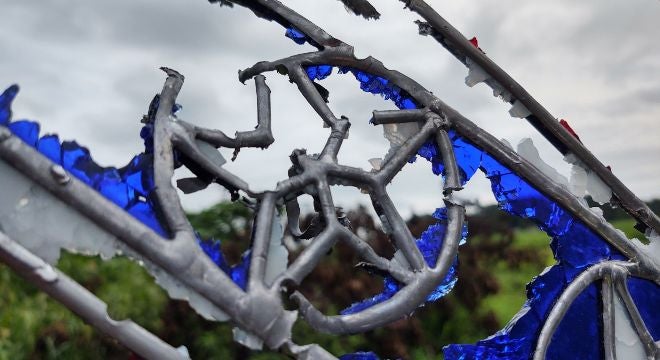 2020 Artists Who Teach Juried Exhibition "Best in Show" winner Johnny Shield will present a solo exhibition entitled, Reverberation. "The fractures in today's society have not yet been pieced back together. Echoes of a long settled conflict remind us that maybe these states are not as 'united' as the name once implied."
---
2022 Virginia Artists
September 17 - November 12, 2022
Reception and Awards Ceremony: September 24, 2022 | 3-5pm
This much anticipated annual juried exhibition showcases many of Virginia's finest artists and artisans. This year's exhibition features cash prizes awarded to Best in Show, First, Second, and Third Places, and several awards of distinction in a variety of media. Artists from all across the Commonwealth, who work in all styles, genres, and media, are invited to submit artworks for consideration.
Jonathan Ashe Solo Exhibition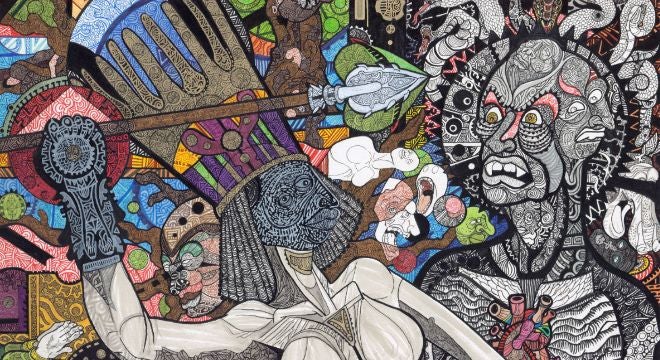 Last year's Virginia Artists Juried Exhibition "Best in Show" winner Jonathan Ashe will present his solo exhibition.
---
Small Works
December 3, 2022 - January 14, 2023
Reception and Awards Ceremony: December 3, 2022 | 3-5pm
While many famous works of art catch our attention due to their grandiosity, the Small Works Exhibition is here to paint a different picture – a miniature one! Artists from around the region are invited to submit miniature and small artworks in any media. Artworks in all media are represented, and the exhibition presents a wide range of styles, techniques, content, imagery and intent. Wonderful things do come in small packages – and they make amazing holiday gifts!
2nd Annual Hampton Holiday Fine Arts Bazaar
Saturday Dec. 10, 2020 from 11am - 5pm
Sunday Dec. 11, 2020 from 11am - 3pm
Join us for the second annual Hampton Holiday Fine Arts Bazaar! The opening of the Small Works Exhibition will be accompanied by this two day fine arts bazaar featuring original, handmade works from artists around the region. Come meet the artists and shop for extra special holiday gifts!
---
2023 Hampton Arts League Member Exhibition
February 4 – April 1, 2023
Reception and Awards Ceremony: February 11, 2023 | 3-5pm
The Hampton Arts League Member Exhibition presents the artwork of The Charles H. Taylor Visual Arts Center's member organization showcasing both emerging and established artists working in a variety of media. This diverse exhibition represents the talented and unique artists who reside and work in Hampton Roads.
---
From the Sea to the Stars
April 22 – June 17, 2023
Reception: April 29, 2023 | 3-5pm
Hampton, the coastal town formed on July 9, 1610, has a multi-generational legacy of history and culture. Whether celebrated in the Air with the first aeronautical laboratory in the country, or the Sea with our continuously operating working shoreline, the Visual Arts Center is excited to explore that longstanding reputation in this curated exhibition From the Sea to the Stars. With the title taken from the city's motto, this exhibition will showcase how our regions talented artists interpret From the Sea to the Stars in the significance of their artwork. A variety of mediums will explore motifs from the representational to the abstract. This exhibition celebrates how the simplicity of a city moto can reach across geographical and artistic boundaries to touch on the economic, creative, and place-making impact Hampton offers to all Coastal Virginia.
---
Sponsor Acknowledgement
Hampton Arts is proud to thank the following businesses, foundations, and sponsors who have helped support our programs on stage, in the classroom, in our galleries, and in our community.
Platinum Season Sponsors: Hampton Convention and Visitors Bureau, Virginia Media
Gold Season Sponsors: Holiday Inn Express at Coliseum Central, WHRO Public Media
Premier Performance Series Sponsor: Coliseum Central, Element by Westin
Performance Sponsor: Jeff's Flowers of Course, Peninsula Custom Framing & Gallery

Television Media Sponsor: News 3 WTKR
Magazine Media Sponsor: Veer Magazine
Hampton Arts is supported in part by the Virginia Commission for the Arts and Art Works for The National Endowment for the Arts.
---
Season Subscription
The FLEX-8 subscription consists of eight tickets (*to select shows/performances) to use in any combination with a $5 discount per ticket. Subscriptions may be purchased in person or mailed to The American Theatre Box Office and Hampton Coliseum Box Office. Single tickets may be ordered in person at the Box Office, online at Ticketmaster.com, or by phone at 1-800-745-3000 beginning August 1, 2022.